The Israeli prime minister, Ehud Olmert, promised an
"iron fist" for Hamas and "silk gloves" for the civilian citizens of Gaza

.
But when thugs make you a promise that they would behave like humans, it is still stupid to believe them. And when the thugs in politician's suits are sending their thugs in hi-tech battle gear under a a name like Israeli Killers Forces - oops, did I say Killer Forces? Sorry, I meant Israeli
Defense
Forces - what you will get is the same centuries-old savagery in a 21 century style.
For the killers (oops again! I meant defense forces), it seems neater and cleaners: shooting is from a distance, killing is simply by pushing a button, and demolishing homes is conveniently at you finger tip by manipulating a small joy stick while you are in the comfort of your unmanned air vehicles command center, or from the convenience of air conditioned cockpit of you jet plane.
But, on the victims side, it is still the same old savagery: it is dirty, noisy, bloody with a lot of body parts around: body parts that belong to their parents, their brothers and sisters, their little playmates, or their little own bodies.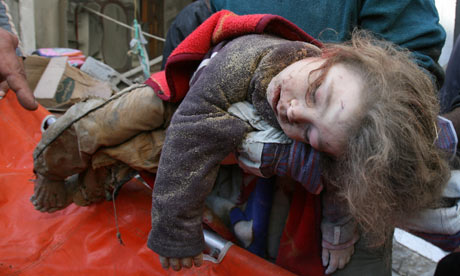 On the 'plus side', there is mercy on the high-powered guns and bombs. they kill you before you get to see the blood and body parts flying around. How civilized!
Unfortunately the unlucky one survive to see the horror. but I am sure that, deep inside, they really really appreciate Olmert's
silk glove handling
.
In their hearts I know they are saying:
"Thank you, Ehud Olmert, of caring. And, please remember to thank your friends in Washington for us.

Without their help, all this would not have been possible. \

You are a true light unto the nations.

And, they are a true gift to humanity."
Khaled
Links

: